Enter the NESH Raffle for the Bastyr Community
Welcome! This current raffle is exclusively for current students, residents, and faculty of Bastyr University and runs through Tuesday June 18, 2019. RAFFLE IS CLOSED FOR NEW ENTRIES. WINNERS LISTED BELOW.
ONE ENTRY per person please!
There will be a total of 10 prizes awarded as follows:
One Grand Prize Drawing Winner will receive a Set of NESH Books by Drs. Herscu & Rothenberg: 
* The Homeopathic Treatment of Children: Pediatric Constitutional Types by Paul Herscu ND, MPH
* Stramonium with an Introduction to Analysis using Cycles & Segments by Paul Herscu ND, MPH
* Provings Volume I and Volume II by Paul Herscu ND, MPH
* The A Cappella Singer Who Lost Her Voice & Other Stories from Natural Medicine by Amy Rothenberg ND
WINNER: Enrica Maffucci 
Two Drawing Winners will receive our new NESH Heavy Canvas Totebag:
WINNERS: Julianna Giles & Jill Johnson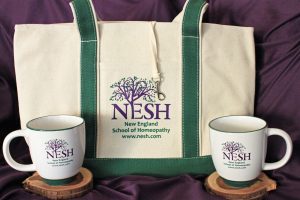 Three Drawing Winners will receive a NESH Ceramic Bistro Mug:
WINNERS: Shayne Wilkins-Haigh, Rachel Kronemann, & Seaward Hayes

Four Drawing Winners will receive Vol 8#1 of the New England Journal of Homeopathy focusing on Cycles & Segments:
WINNERS: Natalie Edgar, Stephanie Kent, Hannah Amos, & Julia Kuebelbeck

Once you complete the raffle form below, you will receive your own Entry Identifier Number. We will then use randomresult.com to select the winners based on those numbers. You have until midnight on Tuesday June 18th to enter. Prize winners will be selected and contacted directly on June 19th. You will be able to pick up your prize on campus from one of our NESH student reps: Erian Goodson or Alex Guzman.
Note: All fields below are required to qualify to enter drawing

Save
Save
Save