Stramonium: With an Introduction to Analysis Using Cycles and Segments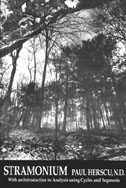 by Dr. Paul Herscu, ND MPH
In his second book, Dr. Herscu takes us through his basic understanding of homeopathy, through the idea of cycles and segments and the how-to of his practice of homeopathy. He then illustrates this through a detailed description of the remedy Stramonium. This book also highlights his ideas of treating people over time and the hierarchy of symptoms which he developed.
Reviews of This Book
__________________________________________
New England School of Homeopathy Press, Amherst, Massachusetts, 1996. 220 pages. Soft cover. ISBN# 0-9654004-0-9
Cost: $28.00
(+ shipping charges of: $7.50 USA / $18.00 international orders. Payment accepted in US dollars only.)
Ordering this Book:
For your ordering convenience, you can order a copy of this book via PayPal (even if you don't have a paypal account):
Or contact us directly if:
• you have any questions about this item and want to be sure it is what you are looking for, as this item is non-returnable
• you would prefer to order directly from us via phone/mail/fax
• you would like to order multiple items from our website to save on shipping costs
• you are a current 
Herscu Letter 
subscriber and you'd like to take advantage of your 20% subscriber discount
The New England School of Homeopathy
356 Middle Street
Amherst, Massachusetts 01002 USA
Tel: (413) 256-5949 – Fax: (860) 253-5041
We accept payment by check (made out to NESH) or by credit card (Visa, Mastercard, AmEx, and Discover only).
With your order please include payment in full and the following information:
Full Name
Mailing Address (Street, City, State, Zip, Country if other than US)
Daytime Phone Number
Email Address
Please specify you'd like to order a copy of the book: Stramonium by Paul Herscu
and if you are paying by credit card (Visa, Mastercard, AmEx, or Discover):
Credit Card Number
Expiration Date
Your Signature