The Journal of Homeopathic Clinics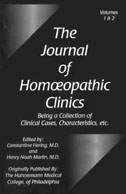 The Journal of Homeopathic Clinics
edited by Constantine Hering, MD and Henry Noah Martin, MD
with forward by Paul Herscu ND, MPH
 reprinted by the New England School of Homeopathy Press
***SOLD OUT***
In the English language there are several hundred books and over two thousand journals on the subject of homeopathy. Most of these volumes are long out of print, found only in a few libraries, and are practically lost to modern homeopathy. Of these books and journals, a few exceptionally great books have been virtually lost through the years. This is one such book.
The main body of the text is of cured cases presented by master homeopaths from the past including Hahnemann, Hering, Rue, Berridge, Boenninghausen, Farrington, Guernsey, Hale, Jahr and Lee. In addition there are outstanding lectures on homeopathic philosophy, practice, and case analysis by Constantine Hering, MD. All in all, the book offers therapeutic tips, clinical pointers, and verified proven symptoms by the early master homeopaths. It is a beautiful snapshot of a particular school of homeopathy spanning about fifty years of clinical practice.
Reprinted by New England School of Homeopathy Press, Amherst, Massachusetts, 1990, 297 pages, soft cover.