The Homeopathic Treatment of Autism: Putting the Pieces Together (DVD)

by Paul Herscu, ND MPH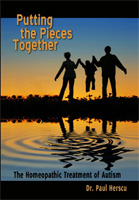 Homeopathy is a gentle and effective natural medicine that does not interfere with other biological and behavioral approaches. Homeopathic remedies are chosen based on the individualizing symptoms of the patient as understood in the context of the patient's overall health and temperament.
This 80 minute DVD is designed for practitioners interested in treating those with Autistic Spectrum Disorder (ASD) as well as for those considering homeopathic care for a loved one.
Dr. Herscu offers an overview of his underlying philosophy of homeopathic medicine as well as his clinical experience working with this population. With over two decades in the field, Dr. Herscu has treated hundreds of children and adults with ASD. His clear and logical philosophy of homeopathic medicine is laid out and he shares how he uses that to inform his treatment of ASD patients.

Topics Discussed:
• Introduction, What is Autism?
• Common Treatment Options
• Job of the Homeopath
• What Expect from Treatment
• Individualizing Treatment & Following the Case
• Issues of Intelligence and Regression
• What Homeopathy can Help with
• Impact of Vaccinations
• Prescribing on the Full Symptom Picture, not the Environmental Stress
For a review of a similar talk given by Dr. Paul Herscu in Boston, MA in 2001, see Homeopathy and Autism
For additional information on this topic, see Dr. Amy Rothenberg's article: The Homeopathic Treatment of Autism, which was published in the March-April 2004 issue of the Autism Asperger's Digest, a 52-page bimonthly magazine on autism spectrum disorders. This article is also included as a bonus insert with this DVD.
Note: This is not a "how-to," instructional DVD on treating children with autism. Available to those prescribing for this population is Dr. Paul Herscu's two day seminar in Toronto from March 2003, called Treating Challenging Children: Attention Deficit Disorder, Autism and Behavior Problems.
We would also recommend Dr. Amy Rothenberg's CD entitled: The Homeopathic Treatment of Sensory Integration Disorder: Treating Sensitive Souls with Gentle Medicine, as Sensory Integration is often an issue for those with ASD.
________________________________
Cost: $25.00 US
(+ shipping charges of $5.00, shipping available only within USA. Payment accepted in US dollars only.)
Ordering this DVD:
For your ordering convenience, you can order a copy of this DVD via PayPal (even if you don't have a paypal account):
Or contact us directly if:
• you have any questions about this item and want to be sure it is what you are looking for, as this item is non-returnable
• you would prefer to order directly from us via phone/mail/fax
• you would like to order multiple items from our website to save on shipping costs
• you are a current 
Herscu Letter 
subscriber and you'd like to take advantage of your 20% subscriber discount
The New England School of Homeopathy
356 Middle Street
Amherst, Massachusetts 01002 USA
Tel: (413) 256-5949 – Fax: (860) 253-5041
We accept payment by check (made out to NESH) or by credit card (Visa, Mastercard, AmEx, and Discover only).
With your order please include payment in full and the following information:
Full Name
Mailing Address (Street, City, State, Zip, Country if other than US)
Daytime Phone Number
Email Address
Please specify you'd like to order a copy of the DVD: The Homeopathic Treatment of Autism – Putting the Pieces Together
and if you are paying by credit card (Visa, Mastercard, AmEx, or Discover):
Credit Card Number
Expiration Date
Your Signature