What Every Homeopath Wants Their Patient to Know (CD)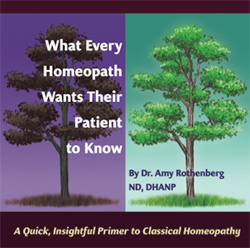 by Amy Rothenberg ND
Click here to listen to a sample MP3 of this CD.
This is a 50 minute CD of Amy Rothenberg ND telling all for prospective and new patients. The information in the CD is general. It reflects, in broad terms, the approach taken by most classical homeopaths. It briefly describes what homeopathy is, who practices it, what the patient can and cannot expect, how to store and take remedies, issues around allopathic vs. homeopathic care, antidoting and concurrent use of other natural remedies during homeopathic care. Dr. Rothenberg answers a host of other questions which she has encountered over the year of teaching and practice, including:
What can I expect in the consultation?
How many times do I need to come?
How long will it take the remedy to work?
Can I stop the drugs I am taking?
Are there things I need to avoid during constitutional care?
What do those little white balls do?
I only take it once? twice? daily?
Can I take other remedies during constitutional treatment?
Can I take vitamins and herbs during constitutional treatment?
Do I need to change my diet?
Is this safe for children and pregnant women?
What if I get sick?
This CD is designed to be a quick, insightful primer to classical homeopathy. Patient education is one of the most important aspects of long term patient care and this CD educates. It is an invaluable tool, which presents a great deal of information and support in an easily digestible, time-saving form. Give this CD to new patients as well as to folks you've been thinking about referring to a homeopath. Dr. Rothenberg's warmth and good humor help make the sometimes difficult-to-explain field of homeopathy understandable and accessible.
*********************
For a Review of this CD, published in 2009 in The American Homeopath Volume 15, see: What Every Homeopath Wants Their Patient to Know
For a review of a talk given by Amy Rothenberg ND on the same topic see: Just the Facts Ma'am: What Every Homeopath Wants Their Patients to Know.
____________________________________
Cost: $10. no shipping charge, shipping available within USA only. (Payment accepted in US dollars only.)
Ordering this CD:  For your ordering convenience, you can order a copy of this CD via PayPal (even if you don't have a paypal account):
COMBO SPECIAL:  Purchase both of the Dr. Rothenberg's CD's: The Homeopathic Treatment of Sensory Integration Disorder ($12 value) AND What Every Homeopath Wants Their Patient to Know ($10 value) for $18 (USD), no shipping charge, shipping available within the USA only.
Or contact us directly if:
• you have any questions about this item and want to be sure it is what you are looking for, as this item is non-returnable
• you would prefer to order directly from us via phone/mail/fax
• you would like to order multiple items from our website to save on shipping costs
• you are a current 
Herscu Letter 
subscriber and you'd like to take advantage of your 20% subscriber discount
The New England School of Homeopathy
356 Middle Street
Amherst, Massachusetts 01002 USA
Tel: (413) 256-5949 – Fax: (860) 253-5041
We accept payment by check (made out to NESH) or by credit card (Visa, Mastercard, AmEx, and Discover only).
With your order please include payment in full and the following information:
Full Name
Mailing Address (Street, City, State, Zip, Country if other than US)
Daytime Phone Number
Email Address
Please specify you'd like to order a copy of either Dr. Rothenberg's CD What Every Homeopath Wants their Patients to Know or the CD Combo Special
and if you are paying by credit card (Visa, Mastercard, AmEx, or Discover):
Credit Card Number
Expiration Date
Your Signature