Grow Where You are Planted
Amy Rothenberg – June 2012
Paul & I have a little house in our backyard, build on an 8×8 foot platform that began its life as a small stage built for kids' neighborhood productions. Little playlets our daughter would direct, or dance shows where everyone was in a tutu, including the little brothers. When productions outgrew that setting, Paul & the kids embarked on creating a tiny house on top of the platform,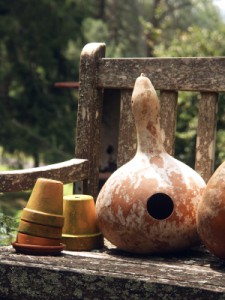 replete with a ladder to a platform sleeping loft. This year I decided to replant the little flower box (my first, and as it turned out, last, woodworking project,) nestled under the front window.
When I opened the bag of potting soil to put dirt in the box, I was delighted by six, four-inch high birdhouse gourd plants, the distal leaves rounded and robust, leaning lazily against each other in the moist black soil. I bought the seeds last fall on a whim, enchanted by the seed packet art, the spring green of the tender tendrils of the vine, the Rubenesquely shaped fruit. I love the idea of sturdy homes made out of gourds for birds that need little holes for nesting; surely I could grow these!
Toward the end of winter, I gingerly planted the seeds, after soaking them to soften the seed cases, into the depressions of a soil-filled egg carton on a long narrow table in front of a sunny kitchen window. Nearby, tomatoes, marigolds, cukes, sunflowers, lavender, all of which, as expected, took on nutrients, water & light, grew miraculously into plants they were meant to be.
I gave the gourds a long 10 weeks and nothing came of them, no green shoots reaching for the light, no nudging of the fluffy soil above. Disappointed, I figured the seeds were duds & tossed the nice dark dirt clods back into the sack of organic potting soil. I rolled the bag up, tied it with a string & tucked in on a low shelf of the potting shed and promptly forgot about the birdhouse gourds. Those hard-shelled gourd plants are now transplanted into their own row in the garden and seem ecstatic to be seeing the light of day.
I am thinking about planting seeds, about how you never know where seeds will fall and how or when they will grow. I am thinking about planting seeds of knowledge & understanding related to medicine, healing and how my own teachers took time and effort to inspire my own growth. I think about our students and friends in this arena who have taken our thoughts, ideas, experiences and offerings and integrated them with their own. And that this is how a profession is grown, this is how we move forward: offering the work and letting it fall where it may. We are ever appreciative of the opportunities to share information and grow this field and marvel at how information is integrated to help the people you touch. I am also reminded to never give up on someone just starting out, everyone blooms at their own pace. And this: we should all keep planting whatever it is we plant, in order to make the world a more healthy, vibrant & beautiful place.