Featured NESH Alumni: Randall & Alexis Shields ND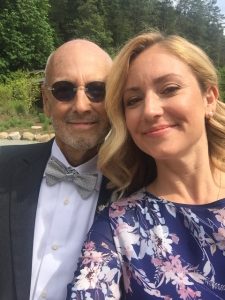 Randall Shields
Bethesda, Maryland
Alexis Shields ND
NESH Alumni Practitioner Directory Listing
Lisbon, Portugal
We are NESH's first, and so far only, father-daughter homeopathy duo!
Randall Shields, retired, classical homeopath consultant: I spent most of my 43 year career in the newspaper and printing industries as the Publisher of daily newspapers and weeklies, and eventually Vice-President of the parent corporation overseeing all commercial printing.
In 1996 I was diagnosed with Hepatitis C. After 11 months, the treatment available at the time was deemed unsuccessful. This caused me to search for alternatives and eventually led me to Paul & Amy.
While researching homeopathy, the more I read, the more interesting it became. When I spoke with a few homeopaths across the U.S. one name came up more than a few times – Herscu. After some good luck and finagling I had my first appointment with Paul in the summer of 2002. The Hepatitis C treatment had left several lingering side effects, all of which were successfully treated by Paul.
I then learned more about NESH and my mind began racing with opportunity. With the urging of Amy and Paul, I was convinced we needed to expose more people to homeopathy in Indiana. I began traveling between Indianapolis and Amherst for 4 years attending class.
Then, almost at the end of my first two year class, the Hepatitis C again showed its wrath and I was diagnosed with liver cancer and had a liver transplant in May 2004. With the help of homeopathy, I missed one class and returned to work full time after only 6 weeks.
During this time I was able to introduce our daughter, Alexis, to Paul and Amy. She learned about Naturopathic Medicine and, eventually, it became her chosen life's work. Nothing has been more rewarding than to see Alexis pursue her dream in medicine and build a private practice, helping hundreds and me being a small part of her practice, from time to time.
I retired from the newspaper/printing industries in 2014, continued homeopathy consulting, traveled with my wife, Patrice, visiting friends and frequenting music festivals in our RV across the US, as well as a little trans-Atlantic and world-wide travel thrown in. We've recently relocated from Greenfield, Indiana to Bethesda, Maryland to be closer to our children Alexis, Zach, and Jocelyn.
Alexis Shields, ND and classical homeopath: My dad started the journey with Amy and Paul in Amherst, MA in 2002 which inspired my career path in Naturopathic medicine shortly thereafter.
I attended Amy and Paul's alma mater, the National University of Natural Medicine (NUNM) in Portland, OR from 2005-2009. After graduating, I spent four years building a private family practice. Homeopathy was a large part of my tool box particularly with the children in my practice. Thankfully, due to my Dad's knowledge and experience, I often came to him with the more challenging cases so that we could work on them together. This resulted in many healthy kids and thankful parents!
In 2013 my husband Shannon Weeks, whom I met at NUNM, and I decided to sell our practices and all of our belongings. The plan was to do some traveling for three months in SE Asia before relocating near family in Washington DC. Three months quickly turned into three years and we traveled throughout Thailand, Vietnam, Nepal, Croatia, France, Spain, Germany, Italy, and Portugal.
We learned about local medicines and healing traditions and set up a mobile clinic for a hill tribe of 200+ people outside of Chaing Mai, Thailand. Our knowledge of homeopathy came in handy to help with the skin illnesses, infections, and pain related problems that we encountered. Although the local people were unfamiliar with homeopathy, they were very open to it. Local plant-based medicines were often their only form of healthcare. Here is a short video that we made of that life changing experience: https://vimeo.com/125995081
After three years traveling the world we now live in Lisbon, Portugal where we have resided for the last three years. I currently do virtual health consulting with busy professionals and businesses worldwide with the goal of helping them to live longer and healthier lives using Naturopathic medicine.
From NESH:  Paul here … Let's get to brass tacks. Playing poker with Randall is always exciting. An 'old school' player, nothing wild, I had to ratchet down my odds calculations. I feel like I was playing poker in the 19th century. A dry wit and sense of humor, I have to say I always learn a lot from Randall. He asks excellent pointed questions. He modeled being a loving husband and engaged father and also how to evolve through enormous challenges, most often with a smile on his face and a useful assessment of the situation. When Alexis showed up at the NESH class in PDX we were thrilled to keep the homeopathy bug alive and growing in one family. Her work with Shannon, around the world & closer to home reflects the way she was raised, to be herself, to be helpful to others, and to let the love shine through to family, friends, and patients. 

Randall & Alexis are our September 2019 Featured Alumni. Return to NESH Alumni Spotlight page to learn about other distinguished NESH alumni.