Featured NESH Alumna: Suzanne Smith CCH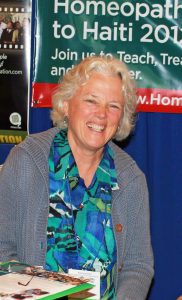 Suzanne Smith CCH
Hebron, New Hampshire
From NESH:  Suzanne Smith CCH has a long and committed relationship to homeopathy and to its growth across the country. We first met Suzanne in a very early NESH class in 1993 and she's been part of our family ever since. With an open heart and compassionate presence, she has helped many people on their healing journeys and has guided many others to the study and inspire a passion for homeopathy. Her work with Homeopaths Without Borders for years, has helped grow that organization and support its efforts for people in need. Suzanne was the long time owner/manager of Food For Thought Natural Market in Vermont helping nourish a generation of people in her region.
When not busy in the world of homeopathy and nutrition, Suzanne has served her community and her state as a legislator in the NH House of Representatives since 2008 supporting environmental and progressive causes across the state. She's also held numerous other posts, reflecting her generous commitment to community and conservation, including the Hebron Conservation Commission, NH Audubon-Newfound Lake and Pemi-Baker Community Health and Hospice.  She believes that citizen participation in local, state, and federal government helps keep officials informed and move government in a better direction. She mentors students, her constituents and homeopaths on how to advocate on the state and local levels. She is an avid hiker, birder and kayaker.
Professional Highlights:
• Homeopathy and nutrition counseling practice in Hebron, New Hampshire since 2002
• Board Member & Treasurer at Homeopaths Without Borders, 2011-present
• Representative, New Hampshire State House of Representatives, 2008-present
• Assistant Editor/Copy Editor, American Homeopath Journal, 2008-2009
• Secretary/Treasurer, 14 Carrots Natural Food Cooperative, 2002-2006
• CCH Certificate, Council for Homeopathic Certification, 2002
• Member, North American Society of Homeopaths, 2001-present
• Broadcaster, WDIY-FM, 1998-2002
• Associates degree, Holistic Health, Community College of Vermont, 1997
• Founded and coordinated the Northern Vermont Affiliated Study Group, 1992
• Graduated, Child Nutrition and Nutrition, National Institute for Nutrition Education, 1988
• Owner/Manager, Food For Though Natural Market, 1977-1998
Suzanne is our June 2019 Featured Alumna. Return to NESH Alumni Spotlight page to learn about other distinguished NESH alumni.