Cycles & Segments – 12 Hr Home Study Course
with Drs. Paul Herscu and Amy Rothenberg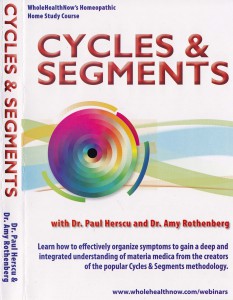 This 12 hour course introduces both the philosophy and application of the Cycles & Segments methodology. Through cases and the presentation of materia medica, Dr. Herscu who articulated this approach, along with Dr. Rothenberg, illustrate how to use Cycles & Segments with all patients – from cranky babies to autistic children, from anxious adults to the chronically ill.
You will learn a practical way of organizing symptom information, which promotes a deep and integrated understanding of materia medica. Study without the cumbersome memorization of long symptoms lists and discover how to elucidate the Cycles and Segments of any remedy.
Who will benefit from this introduction?
From the experienced practitioner to the student or newcomer, anyone who wants to implement the Cycles & Segments methodology in their own practice can learn from this course. Everyone who wants a deeper understanding of materia medica – and a better way to learn materia medica – will enjoy this teaching.
Read what our alum have to say specifically about the Cycles & Segments approach.
Learn more about the Cycles & Segments approach, and read some free sample articles.
This is a multi-media course.  Presentations include cases, repertorizations and supplemental materia medica.  This 12 hour training course comes with an Audio CD (MP3 Files may not play on CD players which are not specifically MP3 compatible) and a Video DVD (WMV + MP3 + PDF file formats, DVD is NTSC) which contains six, two hour PowerPoint slide shows.
This Home Study Course was originally produced in a live webinar format by WholeHealthNow in the Fall of 2011.  All handouts from that course are included in this DVD set.
For a sample of the format and the teachings of Drs. Herscu & Rothenberg, you can view this one hour webinar presentation – An Evening of Homeopathy: The Cycles & Segments Approach to Homeopathic Practice.
This DVD set is the perfect complement to a subscription to the Herscu Letter distance learning program.
_________________________________
Cost: $250.00 US
(+ shipping charges of $10.00 to USA and $20.00 internationally. Payment accepted in US dollars only.)
Ordering this DVD:
For your ordering convenience, you can order a copy of this DVD via PayPal (even if you don't have a paypal account):
Or contact us directly if:
• you have any questions about this item and want to be sure it is what you are looking for, as this item is non-returnable
• you would prefer to order directly from us via phone/mail/fax
• you would like to order multiple items from our website to save on shipping costs
• you are a current 
Herscu Letter 
subscriber and you'd like to take advantage of your 20% subscriber discount
The New England School of Homeopathy
356 Middle Street
Amherst, Massachusetts 01002 USA
Tel: (413) 256-5949 – Fax: (860) 253-5041
We accept payment by check (made out to NESH) or by credit card (Visa, Mastercard, AmEx, and Discover only).
With your order please include payment in full and the following information:
Full Name
Mailing Address (Street, City, State, Zip, Country if other than US)
Daytime Phone Number
Email Address
Please specify you'd like to order a copy of the Cycles & Segments Home Study Course DVD
and if you are paying by credit card (Visa, Mastercard. AmEx, or Discover):
Credit Card Number
Expiration Date
Your Signature