Enter NESH Raffle for Joint American Homeopathy Conference 2022 Attendees
Welcome! This raffle is exclusively for attendees of the 2022 Joint American Homeopathy Conference, April 22-24. Raffle will close on Tuesday May 31, 2022.
ONE ENTRY per person please! Prize to be shipped within the USA only.
Our Grand Prize Winner will receive the following:
* The Homeopathic Treatment of Children: Pediatric Constitutional Types by Paul Herscu ND, MPH
* Stramonium with an Introduction to Analysis using Cycles & Segments by Paul Herscu ND, MPH
* Provings Volume I and Volume II by Paul Herscu ND, MPH
*  Vol 10#1 of the New England Journal of Homeopathy
* NESH Heavy Canvas Totebag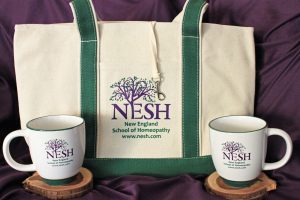 * NESH Ceramic Bistro Mug
Once you complete the raffle form below, you will receive an Entry Identifier Number, you have until midnight on Friday May 31st to enter. We use randomresult.com to select the winners, prize winners will be contacted directly later that week. Grand Prize mailed to a USA address only.
______________________________
Complete Form Below to Enter Raffle [Note: All *fields below are required to qualify to enter drawing]