Featured NESH Alumna: Andrea Weninger, MD
Andrea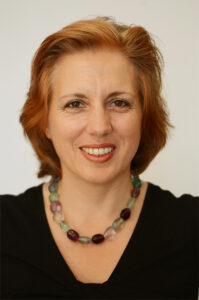 Weninger, MD
Freiburg, Germany
NESH Alumni Practitioner Directory Listing

It all started in my parents' florist shop, where my great interest in plants, especially in all kinds of healing plants, began. This led to the idea of learning homeopathy before entering medical school in Munich in 1984. It thrilled me from the first minute onward and shaped my underlying wish to work in natural medicine.
During my entire study at university, I had the opportunity to train in both homeopathic and conventional medicine. It was a path which turned out to be difficult at times, learning all these pharmaceutical therapies knowing that there was such a wonderful alternative! In the middle of my studies, I moved to Freiburg which is a center for homeopathic medicine in Germany and came in touch with many homeopathic colleagues. With three of them I founded the most inspiring study group which I still enjoy working with today.
In 1998 I started my own clinic where I see many of my patients as their general practitioner, working out a way to solve their problems via homeopathic means. Other patients with severe diseases are consulting with me as their "homeopathic specialist". Because I spent some years of my internship in a children's hospital, I see a lot of families; accompanying their children throughout their entire life starting at birth is one of my most fulfilling tasks.
Very early in my professional life I got the opportunity to teach homeopathy and lead the postgraduate professional education for medical doctors in Freiburg. I've now been doing this for more than 20 years, and have enjoyed it ever since.
I've always loved adding to my medical knowledge by closely following the work of many great homeopaths, especially George Vithoulkas and Henny Heudens-Mast. I am very grateful for this continuous learning process.
But it was in meeting Paul Herscu first in 2002 in Alonissos, Greece that my homeopathic work began to take on another dimension. Since then, I've studied continuously with Paul in Germany, Switzerland, and Austria, including organizing two of his conferences myself. I'm also glad that I now have the opportunity to join the NESH 2020-2022 Virtual Course.
Outside of the world of medicine, I love salsa dancing and singing jazz with my husband who is a jazz piano player and composer. I also relax in reading high literature and criminal stories, and gardening. With my friends and family, especially my four beloved children and my grandson, I enjoy spending time and having parties.
Whenever I have the possibility, I'm travelling to places like New York, Thailand, London, and – for sure – my favorite, France with all its various beauties: the sea, lavender fields, rivers to hike on, enchanted castles, and markets to stroll on and buy some specialties for an exceptional dinner.
From NESH: I (Paul) have known Andrea for nearly two decades now. A fantastic homeopathic physician, Andrea is one of the most conscientious of any type of physician that I have met. This is seen in the time she spends helping her patients and in the time she spends in honing her skill sets. She also is a clinician who has gracefully negotiated the sometimes great divide between orthodox medicine and homeopathy. This is not an easy thing to accomplish in this world, but she has done it now for a long time. But perhaps I should have started with the fact that she remains one of the kindest people I know. Which may be the most important point of all, as it helps those colleagues around her in so many ways. So from me personally – I take this opportunity to thank you, Andrea, so very much!
Professional Highlights:
• 1993: MD degree Freiburg University
• 1995: Homeopathy license (Medical council)
• 1996 to present: teacher in postgraduate professional education for medical doctors in Freiburg (since 2001 to present in leading position) and supervisor for homeopathic physicians
• 1997-2000: teaching in Naturopathic Academy Basel
• 1998 to present: homeopathic clinic in general medicine
• 2004: Homeopathy Diploma (DZVhÄ)
• 2008: Coauthor 'Leitfaden zur Lehre der chronischen Krankheiten von Samuel Hahnemann' (Manual to Chronical Diseases of Samuel Hahnemann) (publisher: Peter Irl)
• Continued education in conferences with leading homeopaths: G. Vithoulkas, H. Heudens-Mast, Alok Pareek, P. Herscu, and others

Andrea is our September 2021 Featured Alumna. Return to NESH Alumni Spotlight page to learn about other distinguished NESH alumni.