Featured NESH Alumnus: Kamau Kokayi MD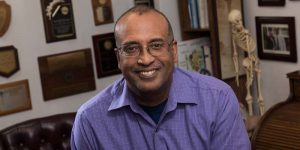 Kamau Kokayi MD
Los Angeles, California and
Brooklyn, New York
NESH Alumni Practitioner Directory Listing

Kamau Kokayi was first exposed to homeopathy during a soul searching year hiatus away from Yale Medical School. His exposure to homeopathy and Chinese medicine sent him on a parallel tracks within the alternative medical field for over thirty-five years. While completing his medical degree at Yale he wrote his thesis on Physics, Acupuncture and Medicine (Where Philosophy Meets Medicine), which gave him a totally different paradigm from which to view health and disease. He has explored health and healing traditions from around the world and is a graduate Priest of a Traditional African Spiritual Society.
As a homeopathic doctor, Dr. Kokayi is a unique practitioner that combines the most up-to-date medical knowledge with homeopathy. After completing his residency in Family Medicine, Dr. Kikayi received certification in acupuncture, traditional Chinese medicine, and applied kinesiology. He also has extensive post-graduate homeopathic training in the U.S. and Europe.
His medical practice offers diagnostic and therapeutic treatments that include nutritional medicine, herbal medicine, manipulative therapy, nutritional counseling, homeopathy, acupuncture, kinesiology, intravenous therapy, and bioenergetics. Dr. Kokayi views complaints not as separate, isolated issues, but as part of a larger story caused by imbalances in the body.
In addition to documentary film making and his numerous other passions and achievements, "As a father of seven my focus has revolved around family and an ever-expanding appreciation of the gift that life is…. All in gratitude"
From NESH:  Kamau was among some of NESH's earliest students in the early 1990's. Before there were terms for medical doctors who practice integrative medicine, there was Kamau. Kamau truly integrates homeopathy and acupuncture at a time when it was less fashionable. A leader in the CAM movement in the New York area his knowledge, quick mind, compassionate demeanor and easy humor graced our classes as well as the airwaves of the big city.
Professional Highlights:
• Bi-costal practice serving as Medical Director of Health At Last, a Medical/Chiropractic Clinic in West Los Angeles and Santa Monica, CA, while maintaining an active practice in his Healing Health Services practice in Brooklyn, NY
• After 35 years of private practice, established a virtual meditation and transformation program in which he guides participants using his understanding of healing and wellness.
• Current President of the NY State Homeopathic Medical Society, and recently retired from the NY State Board of Acupuncture
• Medical director of a number of facilities in and around New York City
• Runs an online Consciousness Transformation Meditation intensive one week out of each month in his Open Heart Meditation Series
• Produced two documentary films: 4 Days, on emergency preparedness, and the other an award winning film, Return, on Traditional African Medicine
• Hosted a weekly radio talk show, Global Medicine Review, for 11 years on Pacifica radio, WBAI
• MD degree Yale Medical School 1982
Kamau is our January 2020 Featured Alumnus. Return to NESH Alumni Spotlight page to learn about other distinguished NESH alumni.