Featured NESH Alumna: Naomi Zeskind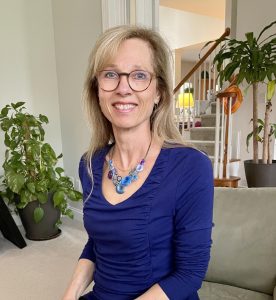 Naomi Zeskind
Charlotte, North Carolina
NESH Alumni Practitioner Directory Listing

​Having grown up in Europe I was always exposed to homeopathy.
In 1988 I moved to the USA and ended up dealing a lot with multiple illnesses in my little son. We were in and out of the pediatrician's office and the ER and found him only getting worse over time. After consulting with a homeopath over the phone in California he got remarkably better on all levels and homeopathy kept him healthy throughout his entire childhood.
My curiosity in the principles of this healing method finally led me to join a local study group and take many courses in homeopathy. Initially I taught and lectured homeopathy to lay people, nurses etc. and then slowly started practicing out of my home until I went into practice full time.
What connects me so much to this field of work is that it nicely fits in with my profession as a child therapist and counselor. I feel connected to the holistic view of looking at the whole person and not just a part of the body or person. After over 30 years I am still passionate about homeopathy! I combine my therapy background with homeopathy and find it important to really listen well to a patient as well as ask questions to get a deeper view into the patient's physical and emotional issues. I have learned over the years that continuity with each patient is a big part of the success and I try to create enough room in my work to be able to "accompany" the patient on their road to wellness.
I love being in nature, walking, hiking in the mountains and have a big love for trees. I feel a lot of inner peace there. I am very close to my family in the Netherlands and like spending time with them. I also have amazing friends all over the world and value these connections. I love dancing, classical music, ballet, and opera and will spend more time enjoying these once I am semi-retired. I enjoy travel and getting to know and immerse myself in other cultures.
From NESH by Paul Herscu ND, MPH: We first met Naomi in 1993 during NESH's Post-graduate Classical Homeopathy Levels I-II Course in Charlottesville, VA. What struck me right away about Naomi was her mature appreciation of the patient, seeing them as a whole, within the context of their life, family, and society. Perhaps it comes from a cultural relativism of moving to the USA. Perhaps it was inborn. But what was clear to me, from the very start, was that while many colleagues were trying to find the remedy, or the potency, or the rubric, Naomi was trying to perceive the patient. A great quality that she has never lost. I think her patients understand that easily. I try to learn from that. 

Professional Highlights:
• 1993-present: Consultations in Classical Homeopathy in private practice
• 1993-present: Post-graduate work in classical homeopathy with NESH and the Dynamis School for Advanced Homeopathic Studies in Toronto, Canada, as well as extensive continuing education with NESH, NCH, WholeHealthNOW, Canadian Academy of Homeopathy, etc.
• 1993-2019: Occasional lecturer for homeopathy at Virginia Tech, various hospitals in Virginia, hospice in Blacksburg, Virginia, instructor for homeopathy for pharmacists of AARP, homeopathy courses for the Open University of the YMCA in Blacksburg, Virginia and various courses taught in Roanoke and Blacksburg, Virginia, CMC Charlotte
• 2003-2005: Study Group leader of Affiliated Homeopathic Study Groups, beginner's level- Charlotte, NC
• 1991-2005: Study group leader of the Blacksburg Homeopathic Study Group, Blacksburg, Virginia — affiliated with the National Center for Homeopathy at beginners, intermediate and advanced level
• 1988: MA (Diplom FH) "Heilpaedagogik", Katholische Fachhochschule fuer Sozialwesen und Religionspaedagogik, Freiburg, Germany. Equivalent to an MA as Child Therapist and Counselor
• 1980-1983: Instructor in an Institution for Adults with Intellectual Disabilities, Heidelberg, Germany
Naomi is our January 2023 Featured Alumna. Return to NESH Alumni Spotlight page to learn about other distinguished NESH alumni.