Featured NESH Alumnus: Steven Sandberg-Lewis ND, DHANP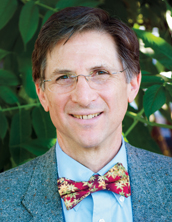 Steven Sandberg-Lewis ND, DHANP
Portland, Oregon
NESH Alumni Practitioner Directory Listing (pending)
Dr. Steven Sandberg-Lewis has been a practicing naturopathic physician for forty years. His private practice is Hive Mind Medicine in Portland, Oregon and he is a professor at the National University of Natural Medicine. His area of specialty is Naturopathic gastroenterology. Conditions of special interest include inflammatory bowel disease, irritable bowel syndrome, small intestine bacterial overgrowth, gastroesophageal and bile reflux, biliary dyskinesia, and chronic nausea/vomiting.
Some special techniques used include clearing of unresolved emotional states – emotional freedom technique and eye movement clearing – as well as musculoskeletal assessment and soft tissue techniques – applied kinesiology, structural integration and visceral manipulation.
Steven lectures extensively on digestive health and disease, writes a monthly functional gastroenterology column for the Townsend Letter, is the author of Functional Gastroenterology: Assessing and Addressing the Causes of Functional Gastrointestinal Diseases (available at amazon.com) and is featured in numerous podcasts, digestive interview series and webinars.
"My personal interests include writing and performing music on guitar, mandolin and vox. I have found lecturing to be as exciting as performing music, and I combine the two by writing humorous altered popular song lyrics and playing them when lecturing. I am really enjoying seeing more of the world as my wife Kayle and I lecture and travel these last few years. In addition, I am finding a real passion for writing and leaving a written legacy comprised of the bits of useful medical innovation I have synthesized over my career."
From NESH:  Steven first studied with NESH almost 25 years ago at our 1993-1994 course in Seattle, WA. Fast forward to present day and we are thrilled to have him join us again at our 2018-2019 Two Year Course in Portland, OR where he is eager to learn more about the Cycles & Segments philosophy that Dr. Paul Herscu has worked to develop and fine tune over the last 25 years.

Professional Highlights:
• Professor at the National University of Natural Medicine and private practice in Portland, OR
• Textbook: Functional Gastroenterology – 2nd edition
• Articles: Townsend Letter, NDNR
• Achievements: Listed in Portland Top Docs, NUNM Hall of Fame, NUNM Lifetime Achievement Award
• Milestones: 40 years of marriage, 40 years of practice
Steven is our March 2018 Featured Alumnus. Return to NESH Alumni Spotlight page to learn about other distinguished NESH alumni.