Featured NESH Alumna: Tamar Laderman CCH, FNP-BC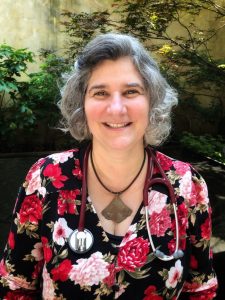 Tamar Laderman CCH, FNP-BC
Teaneck, New Jersey
NESH Alumni Practitioner Directory Listing
My education led me on a journey of observations, initially it was as a painter and then as a practitioner. For me paintings are not just a moment stuck in time like a photograph, they are an accumulation of observations over days and weeks. Observations of how light shifts, seasons change, objects come in and out of a space, people move, act and look all play a part in my understanding of nature.
I see a person's disease, not static like a photograph, or as a diagnosis, but rather as an accumulation of dynamic events culminating in the symptoms before me. Observing the effects of disease on people requires inquiry, diligence, and patience. Whether a patient is suffering from a cold, an injury, or an emotional stress, the story is what is important. The body has innate systems to cope with stress to promote healing. Symptoms are clues that inform the practitioner what is going on. Taking time to observe and gather information is crucial for accurate treatment.
As a family nurse practitioner in primary care and integrative medicine I consider myself a liaison between the patients' needs and the various medical options available to a patent today. I integrate medical knowledge and testing, homeopathy, nutrition, herbal supplements – and compassion – to help my patients heal. Gathering and understanding the patient's symptoms, finding a remedy to stimulate their innate capacity to heal, and watching them blossom, is gratifying and has kept me constantly studying.  It is beautiful, challenging, and takes time to reflect.
Our home is always full of family and friends. I love to cook, host parties, celebrate holidays, and create projects. I enjoy playing violin with my daughter. When I have time, painting landscapes outdoors is my passion. It connects me to nature and tunes the senses. I am truly blessed with a loving and supportive husband, three amazing children, an awesome son and daughter in-law and many close friends.
From NESH:  Tamar has been in the NESH family since 1995. She has taken just about everything we have offered and has attended most of our Reunion and Clinical Class Weekends. A few years back she jumped in yet again for our full course in Boston, MA. Tamar had a vision of becoming a nurse practitioner, which she did later in life so that she could use homeopathy in a medical setting, This is no small feat with two grown kids and a school-aged one at home. Tamar's writing above, describes well what we so deeply love about her: the capacity to understand and appreciate what she is looking at, her posture of seeing wonder and her warm, loving presence. Would not be NESH without her!
Professional Highlights:
• 2017-Present: City Care Family Practice NYC, family nurse practitioner integrative health
• 2012-2016: FNP/ Homeopath, Center for Health and Healing, Mount Sinai/Beth Israel
• 2011: Family Nurse Practitioner BC, Pace University
• 2008: Registered Nurse, Bergen Community College
• 2001: Certified in Classical Homeopathy
• 1995-2011: Homeopathic consultant / development of sand play in homeopathy
• 1987: BFA, Massachusetts College of Art
Tamar is our May 2019 Featured Alumna. Return to NESH Alumni Spotlight page to learn about other distinguished NESH alumni.