Welcome Homeopathic Nurses Association
NESH is the longest continuously operating school of homeopathy in North America, teaching the art & science of classical homeopathy since 1990.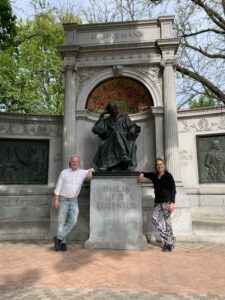 Dear HNA Member,
Welcome to NESH! Over the years, our students and alumni have represented a vast diversity of both professional and homeopathic experience. We've been honored to teach nurses as part of that group since our very first classes in the late 1980s. Nurses are often the first line of care for family members and patients alike, trained to understand people and create a nurturing environment. Nothing complements homeopathy more and over the years NESH alum nurses have been some of our most wonderful providers.
We invite you to meet some of our NESH Alumni nurses and learn about their experiences with NESH.
We currently offer online courses for all levels of experience and we hope you will find one of our learning opportunities that fits just right for you. Our goal always is to have you learn to use this powerful tool in ways that streamline your efforts while ultimately being able to help those in your care.
We also welcome you to explore our site chock full of free educational content, including articles on these topics from both homeopathic and integrated medicine perspectives:
• Cognitive Decline and Healthy Aging
• Insomnia and Other Sleep Issues
• Raising Healthy and Resilient Children: Homeopathy, Natural Medicine, and Common Sense Advice
• Thoughts on the Treatment of Pain & the Ongoing Opioid Crisis
• Working with Cancer Patients: During and after Conventional Care
We look forward to learning together,
Amy Rothenberg ND, DHANP & Paul Herscu ND, MPH, DHANP
ONLINE NESH COURSES:
FREE Email Mini-Series: Countdown. Get a sense of what Drs. Herscu & Rothenberg teach & how they do it.
ONLINE Foundations of Homeopathy 12-Hour Course: Introducing the Fundamentals (Enrollment open for 1st of each month)
ONLINE Develop Expertise in Homeopathy Two-Year Course (Begins February 1st)
Also o

f Interest:
We are pleased to have had another successful study published: Safety and Evaluation of the Immune Response of Coronavirus Nosode (BiosimCovex) in Healthy Volunteers: A Preliminary Study Extending the Homeopathic Pathogenetic Trial. We aimed to develop a bridge study between homeopathic provings and modern clinical drug discovery trials. Additionally, the findings of mild elevation of IL-6 in all the subjects are worthy of further examination as they may be linked to a measurable immune response from the remedy.
This is an exciting proof of concept study, expanding upon Dr. Herscu's prior published work and deepening our understanding of homeopathic provings. Read more about Dr. Herscu's evidence-based research in classical homeopathy, including study published in 2021: Randomized Double-Blind, Placebo-Controlled Feasibility Study, Evaluating the Efficacy of Homeopathic Medicines in the Prevention of COVID-19 in a Quarantined Population.