See The World: The Learning and Reading Program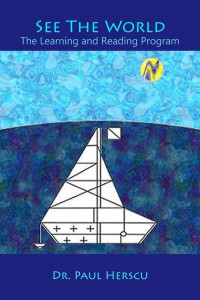 By Paul Herscu ND, MPH
This ebook offers a new model for understanding children who have trouble processing information. There may be difficulties in reading or math, in conceptualizing and completing a series of steps, in academics in general, in communication, and in social interactions – challenges that put terrific stress on the child and family alike.
In order to expedite the learning curve, this book presents practical, concise exercises for working with such children. These easy-to-learn approaches lead to measurable improvement in your child's ability to understand and process information, to solve problems and learn more effectively. We have been using and refining the approaches in this book in our practice for over three decades and are thrilled to share the technique and make it more widely available.
Read excerpt from the INTRODUCTION.
Read what educators, parents, and students have said about The Learning and Reading Program.
No matter what learning or reading problems you are trying to correct, the program described in this book will substantially improve performance at school, work, home and play.
Most programs and tutors usually attempt to correct one specific problem in a single subject, at one grade level. Learning becomes a long-term struggle as parents and children go through the ritual of getting help with homework day after day and year after year. Almost 40% of children are not performing at expected level of learning, which indicates many traditional programs have not been effective.
Developed for parents, teachers and doctors, Dr. Herscu's program described in the book, See the World, is designed to permanently correct the underlying problem other programs fail to address. Specifically, the exercises in this book will address these complaints:
LEARNING DIFFICULTIES. Several forms of learning disabilities are focused on, with exercises described to permanently correct them.
SLOW STUDY TIME. Study time becomes much more efficient, not just more effective, by students learning how to learn.
READING DIFFICULTIES. Several reading difficulties are addressed: trouble reading, difficulty comprehending, inability to generalize, and challenges with recalling what was read.
MATHEMATICAL LEARNING DIFFICULTIES. Notably, this program corrects the common problem of not understanding word problems.
POOR GRADES. Grades often jump from D's and C's to B's and A's. Of note, the program is also used by succeeding students who wish to improve grades or develop more efficient study habits.
BEHAVIOR & SOCIAL SKILLS DIFFICULTIES. Individuals may often misinterpret other people's intentions causing inappropriate social behavior, such as outbursts or anxiety. Numerous aspects of socialization and interpersonal communication improve using this method.
ANXIETY, STRESS AND DEPRESSION. Processing difficulties exacerbate family dynamic tension. The student is often anxious or sad and feels a great amount of stress. Both students and family are happier and less stressed by permanently correcting underlying issues.
GLOBAL COMPLAINTS. The program addresses global processing and problem solving, therefore all subjects and learning skills improve.
POST STROKE AND POST TBI COMPLAINTS. While the program is described for the student, the global difficulties found in post stroke and post traumatic brain injuries are often helped by the same exercises. While the student is dealing with the global complaints since birth, the adults described here are learning to contend with cognitive changes or cognitive loss. This program assists in developing the skills that help regain loss in an efficient manner.
Dr. Paul Herscu has been in private practice for over three decades. In that time, he has worked with thousands of children who suffer from learning difficulties. Internationally known for his innovative approaches in personalized medicine, he developed a program, described in this book, to help children learn effectively and efficiently.
Dr. Herscu has taught this method in seminar format, and now shares his insight and approach in this accessible book. The concepts and exercises presented are not difficult; they are logical and can be taught, regardless of where your child is starting out. You can begin to implement this approach immediately to start improving reading comprehension and school performance, as well as to improve navigation and enjoyment of social settings.
Each exercise includes a brief explanation of why it is important and consists of effective activities customized to each individual's preference. The program described in See the World is compact and easy to read. So simple, children learn to use the skills on their own. The variety of skill exercises develops global aspects of learning, unlike narrow focused programs. It greatly improves thinking, memory, comprehension, and processing, all in just 20 minutes.
Proceeds from the sale of this program go to benefit the Foundation for Homeopathic Education.
(Note: 20% discount for Herscu Letter subscribers does not apply to this program, as it is sold directly via iBooks/iTunes.)