Featured NESH Alumna: Jennifer Harrison ND, RN, BSN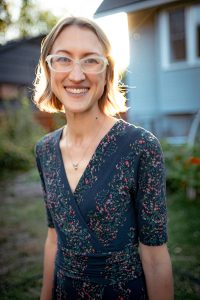 Jennifer Harrison ND, RN, BSN
Spokane, Washington
NESH Alumni Practitioner Directory Listing

As a child I was drawn to medicine. I started volunteering at the local pediatric hospital at 14, deciding after that experience I wanted to become a nurse.  I earned my Bachelors degree in Nursing in 2004, and enjoyed the one-to-one interactions this work allowed me when in hospital settings. However, I wanted to do more preventive and restorative medicine, and I wanted more autonomy.  In seeking ways to do this, I discovered naturopathic medicine and decided to return to school.  I looked forward to learning the body all over again, through a new lens.
Once in school, perhaps because of my background in conventional medicine, I focused heavily on how to use herbs, nutrition, and physical medicine to support healing in individuals.  I also began to learn about the gentle yet profound results homeopathy could effect. I studied homeopathy with Paul and Amy while still in school (2013-2014) but didn't really dig into using it regularly with my patients until I had been practicing for a bit.  I was still overwhelmed by the process of prescribing well but I also realized I could not reach the depth and breadth of change my patients and I were seeking without it!  So, I retook the class with Amy and Paul virtually in 2020-2021 and began using homeopathy daily with my patients.  It has been such a rewarding experience! Studying with Amy and Paul through NESH, clinical classes, and case reviews have been pivotal for me. I see constitutional homeopathic remedies support change in individuals with an elegance I simply do not see with other modalities.
I enjoy the variety of humans that come into my office.  Sometimes individuals come to me because they aren't finding answers through conventional routes, sometimes because they simply want to work with a naturopath.  I especially love working with children and families – understanding each individual in the context of his or her household – and having the opportunity to support a young person into a healthier adolescence and adulthood.
My husband and I have 3 energetic and curious children with whom I love to spend time.  We are grateful to live in a house with a yard, where it is easy to spend much of our time at home outside – kicking or throwing balls, going for bike rides, making dirt-stick-leaf-flower creations, miniature sledding hills or talking to neighbors.  I also enjoy the annual challenge of a productive vegetable garden and could easily get lost in my work there for hours at a time.
From NESH by Amy Rothenberg ND: We first met Jennifer as an attentive student in naturopathic school. We love having the chance to work with a student again, now a doctor, once they've been in practice for a while. It brings us joy because we see all the gears clicking and the information shared having that much more scaffolding or place to land. Jennifer, true to that joy, returned to NESH with more questions, more nuanced understanding and more confidence to prescribe. This enables her to really glean the most from class, from lectures, from office hours, and from her own experience as a beloved provider. We are so proud of Jennifer and the path she has taken, her dedication to her patients, and the commitment she has to being a caring, effective, and generous doctor. I (Amy) have also had the privilege to work with Jennifer one-on-one case reviews, where I can see her attention to detail, her skill with case taking, and her ever deepening understanding of the remedies we use.
Professional Highlights:
• 2004: Bachelors in nursing, Calvin College (Grand Rapids, Michigan)
• 2004-2006: Worked as a nurse in a variety of acute care and community settings
• 2010-2016: Attended Bastyr University for Naturopathic Medicine with multiple extracurricular courses in herbal medicine, craniosacral therapy, visceral manipulation, hydrotherapy, homeopathy through NESH
• 2018: Started a non-profit practice in Spokane, WA to increase accessibility to naturopathic medicine
• 2015 – present: Continuing education in homeopathy through Clinical classes with Amy and Paul, NESH course repeat, various other courses in hands-on modalities, counseling, environmental medicine
Jennifer is our December 2022 Featured Alumna. Return to NESH Alumni Spotlight page to learn about other distinguished NESH alumni.